Stop Mixing and Start Fixing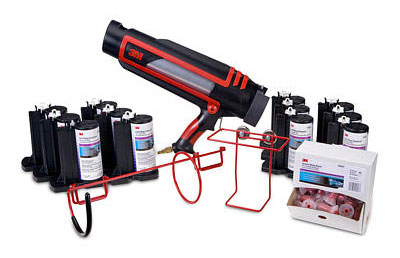 The 3M Dynamic Mixing System is designed to simplify the process of mixing and applying body filler and finishing glaze, while helping the shop save time, money, and materials on panel repair jobs.
Benefits
Revolutionary auto body repair breakthrough.
Advanced mixing nozzle automatically mixes as-you-go, eliminating pinholes in the final finish.
Grab-and-go applicator dispenses filler-on-demand.
Easy-on/easy-off cartridges for finishing jobs faster.
A better system for an ultimately better finish, better productivity – and better profitability.
Three Easy Steps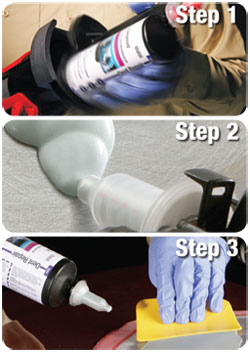 Step 1.) TWIST into place a cartridge (filled with dent filling compound or dent finishing glaze) on the applicator, and add a mixing nozzle.
Step 2.) MIX the compound and hardener automatically by simply pulling the trigger on the applicator. Watch as the automixing nozzle precisely mixes – and dispenses – a perfect ratio of filler or glaze and hardener. No more guesswork!
Step 3.) FIX dents or scratches instantly by applying the compound directly from the applicator to the vehicle surface and spread into place! Nothing is faster, easier or reduces more waste!
Tools
05846
3M Dynamic Mixing Gun - Pneumatic
Accessories
05847
3M Dynamic Mixing Nozzle
02576
3M Bulk Nozzle Shop Rack
02575
3M Dynamic Mixing Gun Shop Rack
Compounds & Finishing Glazes
05850
3M Dent Filling Compound
05857
3M Dent Finishing Glaze
Kits
05849
3M Dynamic Mixing System Introductory Kit

1 Applicator Gun with Rack
1 box of Dynamic Mixing Nozzles
9 tubes of filler
1 tube of Glaze

Order Today
Toll Free Phone:
800-627-1660
Toll Free Fax:
888-478-4926